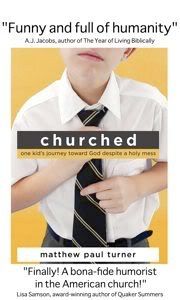 Are you a "Christian?" Have you ever been "churched?" Hearing this word immediately brings to my mind stories of the process of dismissing an individual from the congregation if they are living contrary to the expectations of the church. It was told that one man was walking down the road. Realizing a dance was being held, he peered in the window. A church member saw him and reported him to the church. They dismissed him from their church because they felt dancing was a sin. This was my interpretation of churched so emphatically and without any hesitation I would have told Matthew Paul Turner, the author of,
Churched
, "NO! I have never been churched? Have you?
However, he had a different idea as he wrote, Churched. As I began to listen to him talk about his book, I realized that in reality, I had been, "churched." You see, I have actually attended church since I was a little girl, in fact from the time that I was conceived, so in other words all my life. During this time I was grounded in the church's "do and don'ts of life as a Baptist. I tried for years to earn my good standing with God by doing all the right things and by not doing the wrong things. What about all those things. In other words by Matthew definition I was beginning to think maybe I had been "churched."
Think back through your church experiences. Are there ideas, opinions, or actions that you have accepted throughout the years that have done in the name of "Christianity" that has nothing to do with how Christ would want us to live, or with being obedient to him? Are there ideas that you have accepted as the Truth but even though you used "Strongs" concordance you could not located the scriptural basis for the beliefs in the scriptures? I had to say Yes to both. The sad thing is that it is some of these beliefs cause us to behave in ways that cause the unchurched to fear us, to avoid us, to misunderstand us, thus keeping us from being able to form relationship that might lead them to a knowledge of Jesus.
Matthew is a follower of Christ and believes that church membership and fellowship is a part of a believers lifestyle. I encourage you to get to know
Matthew Paul Turner
. While he is very serious about how we live out, church, he is able to share his stories in a most remarkable way. While I do not know the characters in his stories by their names, I can relate my own experiences with those personalities in my life. I am not into comedy yet this is one of my favorite books. I had not read my copy but my parents received a copy while we were in Nashville. My mom read the book aloud as we road back home. We laughed and laughed and shared our own stories.
Check out his book by clicking on the book icon at the top. You will find an exerpt from the book. Laughter is good for the soul, or if you need a birthday gift, hospital gift, or something for that person who has everything, they are affordable. Buy several for sharing with those who need a good laugh.
If you are not sure if you've been churched let me know after you've read the book. Better yet share it with Turner himself.